When the pandemic threw her a curveball, this personal trainer found a new, niche clientele
Like many entrepreneurs, Jamie Oakenfold saw a need in her community, and quickly stepped in to fill it.
The Thunder Bay-based personal fitness trainer said many of her clients, once they began their pregnancies, let exercise fall to the wayside, at least until their obstetrician or midwife gave them the go-ahead to resume workouts.
But despite the process, there was a huge information gap in what women, both pre- and post-natal, knew about caring for their bodies or resuming exercise.
And COVID-19, with its pivot to virtual health care, didn't help that, Oakenfold said.
"Because of COVID, a lot of the six-week check-ins that women did to get cleared for physical and sexual activity were all over the phone," Oakenfold said. "The health-care professionals, they don't check to see if a woman is prolapsing, or experiencing incontinence, or anything like that.
"So why are they being cleared for all of this activity when most women don't really understand what a pelvic floor is?"
With that, Oakenfold Strength and Athletics was born, with the goal of helping women stay in tip-top shape before, during and after pregnancies.
Oakenfold earned her certification in pre- and post-natal fitness, so she was able to hone down her 10-plus years of personal training experience to help a targeted customer base.
"I want my clients to feel like they can do this workout while pregnant," she said. "Or, yes, I can do this workout without peeing my pants. Or, yes, I can get back the core strength I feel like I've lost during pregnancy."
But really, it's more than about just getting back — or staying — in shape.
"The goal for my business would be to empower women," Oakenfold said. "Just so women understand that once they become pregnant, their lifestyle doesn't necessarily have to change.
"Their husbands' or partners' lifestyles don't change, so why does yours?"
The decision to turn from being a personal trainer at a high-end, exclusive fitness club to starting her own business, especially at the height of the pandemic, wasn't easy, Oakenfold said.
But following a chat with a chiropractor friend, who said they were bursting at the seams providing care for prenatal women, Oakenfold said she was inspired to leave what she had been doing, and venture out on her own.
"I started reaching out to midwives, obstetricians, chiropractors, pelvic floor physiotherapists, osteopaths, regular therapists, massage therapists," she said. "Pretty much any specialist that comes into contact with pre or postnatal women.
"I let them know what I was doing. And it just kind of snowballed from there."
With a strong following on social media, she was ready to spread the word about her services, and in June 2021, Oakenfold Strength and Athletics took its first few clients.
"I actually sit down with a potential client and talk about their goals, first off, and so I'll do a bit of a motivational interview with them," Oakenfold said.
"It's very common among women to say, 'Oh, I want to lose weight.' And I say, 'Okay, why do you want to lose weight?'
"Do you think it stems genuinely from yourself? Or do you think it's been influenced by outside influencers like social media, family, friends, anything else?
"So you want to narrow down exactly what the person is looking for, because if they're just giving you a generic answer, they're not going to be motivated by it. So I'll really peel back the layers of the onion to get to the core of it, to figure out what exactly they want, and it's actually nice."
The approach signifies a larger shift that she sees happening, not just in Thunder Bay, but the Western world, where more women are starting to focus on building strength and functional mobility instead of just concentrating on how they look in the mirror.
There's also a shift towards people, especially moms, getting proper sleep and nutrition, and eliminating stress triggers as best as possible. 
"If all those factors are working against your goal, you're gonna have a hard time," Oakenfold said. "But if you do a pretty decent job of adulting not too badly, then, you know, we got something to work with here."
Oakenfold estimates she keeps a steady roster of 40 clients, and has helped over 100 in just over 18 months.
Not only has the venture been successful from a business perspective, Oakenfold said she's also forming relationships with a new network of women in Thunder Bay.
One of the aspects to her new business that's most rewarding, Oakenfold said, is the tight bond she's formed with women she's training with.
"With my prenatal clients specifically, I'll be with them for most of their pregnancy," Oakenfold said. "Then I'll be like, alongside them almost when they start to deliver. It's fun and exciting at the same time.
"I once had a clientele, 12 days overdue, still exercising," she said. "And that's good; she can exercise right up until that baby comes out."
But her care doesn't end at delivery. Oakenfold said she likes to stay in contact with clients soon after they've delivered.
"I always follow up with how the delivery went, how they're feeling, how is baby feeling," she said. "Then I'll always give them extra exercises and extra support whenever they need it, especially after those six weeks."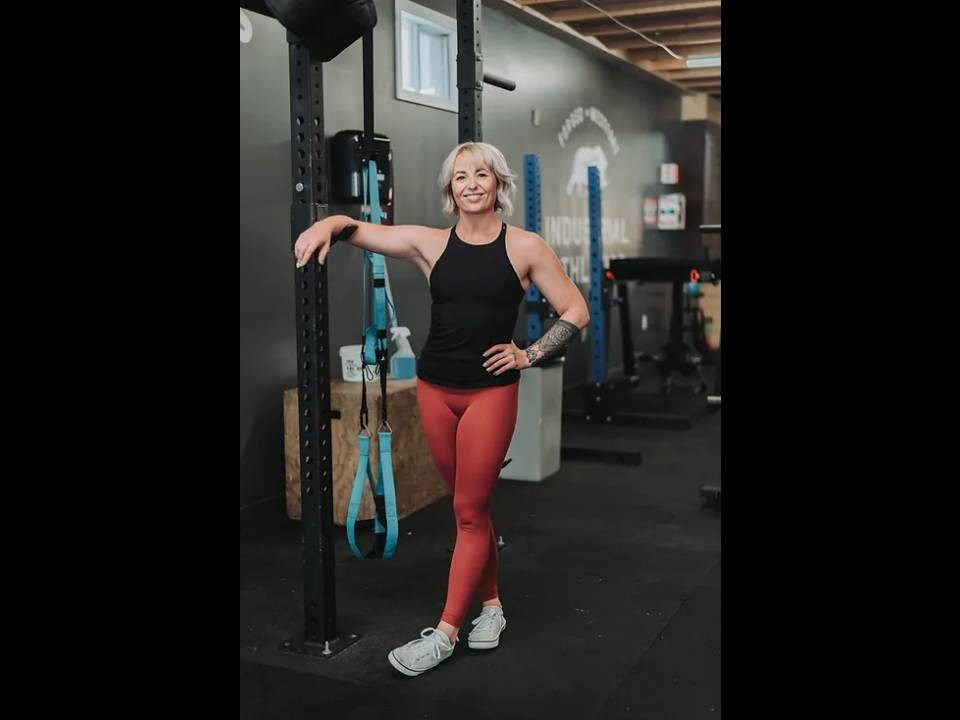 In a paper published in 2003, the Society of Obstetricians and Gynaecologists of Canada recommended that both pre- and postnatal exercises contribute to overall health during pregnancy, including strengthening of the pelvic floor.
It's not always easy.
That's why the first step in reintroducing physical fitness after delivering a baby is to get a proper assessment, Oakenfold said.
"Once they're cleared to come back for exercise, I send them immediately to a pelvic floor physiotherapist, because they're the best ones to determine whether or not a woman is good to go for exercise," Oakenfold said.
"Once they see the pelvic floor physio, then we're good to go."
Oakenfold's exercises for the new mom are a complement to the pelvic physio's exercises. 
"All the women are getting kind of a double dose of healing and exercises that their bodies need," she said.
And even as her business grows, and more new moms benefit from her one-on-one approach, Oakenfold says she has no plans to leave Thunder Bay, as she said it's the perfect environment for a budding entrepreneur in the health field.
"Now that millennials are starting to grow up a little bit more. They're kind of going on these ventures of business," Oakenfold said. "I'm seeing all of these new, thriving businesses start to open up in Thunder Bay.
"It's giving the city some sort of edge, and it's awesome."